What makes a tech workplace a good place for people of diverse backgrounds? Sarah Allen, CEO of Bridge Foundry and friend of mine, is looking for companies willing to partner with her to research the question.
Two weeks ago, I went to the Bridge Foundry impact & vision update event. Sarah announced Bridge Foundry's new Industry Partner Program there. She wants to hear from tech companies willing to be part of a research program, allowing Bridge Foundry to find out what different companies are doing in terms of building more diverse engineering teams, what works, and what doesn't, so Bridge Foundry can spread that information. If that's you, please read more about the partner program! Feel free to reach out to me first if you have any hesitations.
I went to the event as a volunteer. I organized some printed materials like posters and programs. Judy Tuan and I picked up food for attendees. When Sarah's talk began, I was riveted when she reminded us of the history of RailsBridge and its growth over the years. Bridge Foundry is home to outreach programs for 8 programming language communities: RailsBridge, ClojureBridge, MobileBridge, GoBridge, ElixirBridge, ElmBridge, ScalaBridge, and RustBridge. No Python, presumably because PyLadies predates Bridge Foundry, but 8 is pretty good.
I said I was riveted. I look riveted, don't I? (Photo credit: Ilen Zazueta-Hall)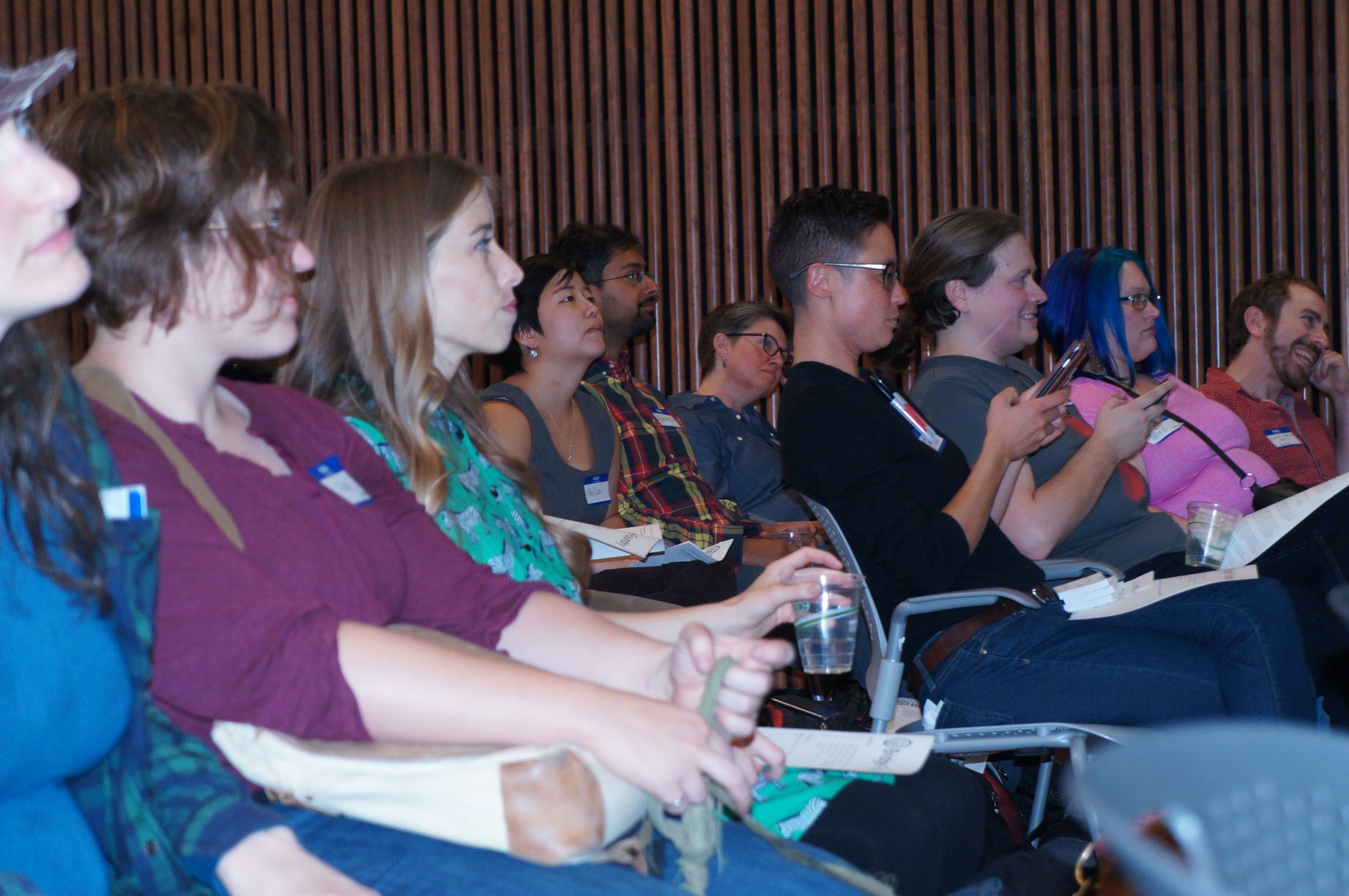 Sarah emphasized a few times that she's interested in changing culture in the tech community. Teaching programming to a more diverse workforce (i.e., the workshops) is one part of that. Partnering with companies to find out how workplaces can be most effectively welcoming has to be another.
The part I found most intense (and fun!) was when we practiced a new aspect of Bridge Foundry event volunteer training — how to deal with situations where someone says something belittling or accidentally exclusionary. I wish I had introduced this into OpenHatch's volunteer training back in the day. It was organized as a three-person activity, where person 1 says something accidentally dismissive or worse, and person 2 and 3 must think about what they'd say in that situation. We did a retro at the end, and I was amazed to see such a range of responses.
I've spent a lot of my life trying to mimic RailsBridge and Bridge Foundry, so it's a deep pleasure to be able to spend time with Sarah to this day. If you want to be an industry partner of Bridge Foundry, you'll get the pleasure of meeting her, too.