How did you like Baltimore?
A new friend was giving me a ride from Palo Alto back toward San Francisco. She told me that she went to Carnegie Mellon's program that used to be called Computation, Organizations, and Society. In the car ride, I did what I usually do; I tried to figure out if she knew someone I know.
"Yeah, I remember Chris Chan," she said. "But I don't think he remembers me." We talked more about how I know Chris, and then she asked me, "How did you like Baltimore?"
"Baltimore's a nice place to live," I answered. "I really loved a forest there, in a park right by Hopkins. I used to explore it with Chris. You know, I really miss the streams and little forests of the east coast."
There was a pause, and in the pause, I wondered if I was being judged. I changed my tune. "Those must exist out here in Northern California," I continued. "I guess they're not on my commute between home and work in San Francisco."
The next day, I went to the Marin Headlands and stayed in a hostel. Before the Lyft Line picked me up at my house, I rushed across the street to get enough frozen Amy's meals to last a full day and a bottle of cheap California sparkling wine.
I did some work from the hostel's adorable living room. That evening, I walked for 10 minutes to Rodeo Beach and enjoyed the sunset. Here's a photo (retouched by Google Photos).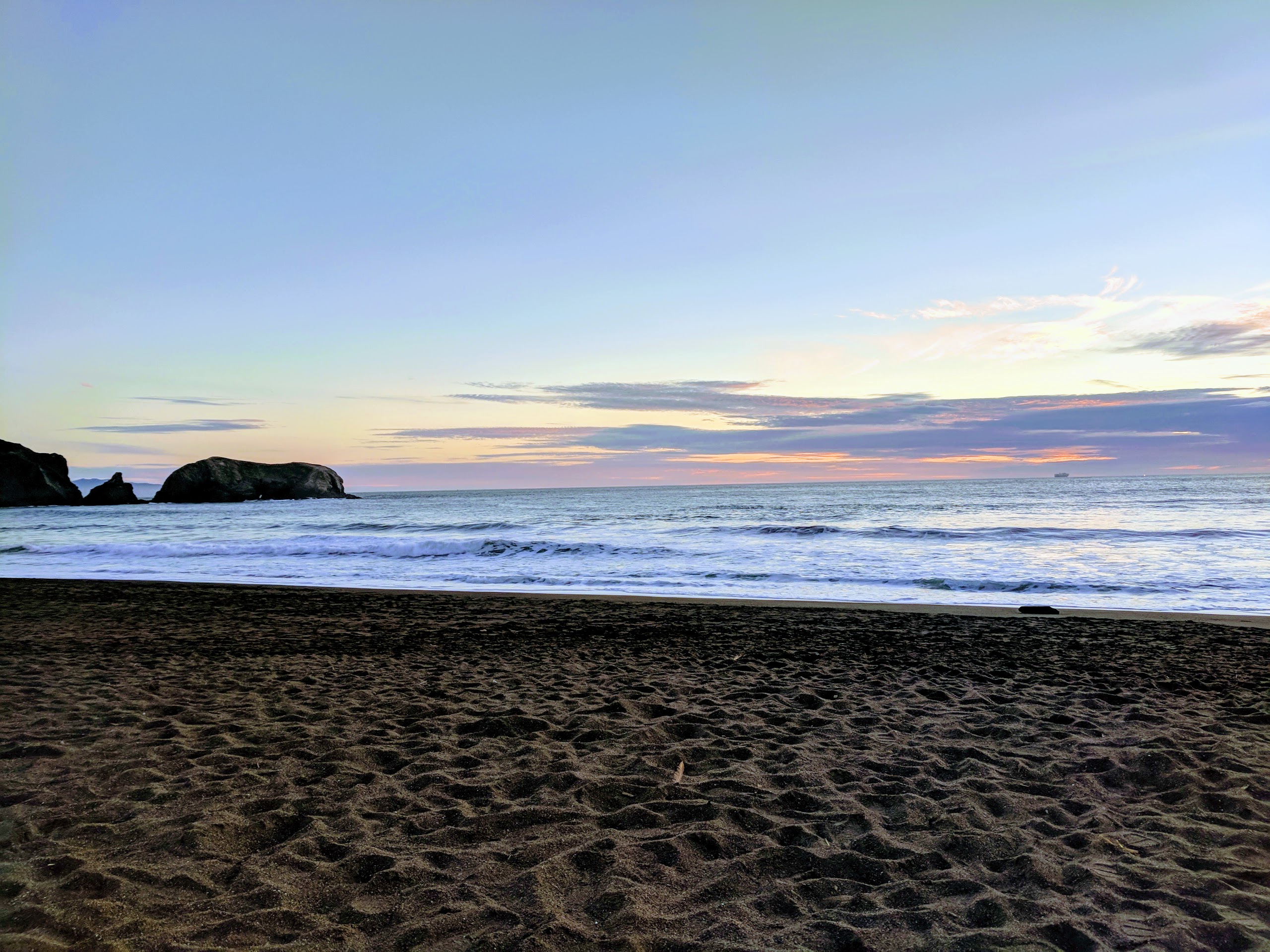 I took a Lyft Line back home the following day. All in all, the trip cost me about $110, including the travel and lodging.
If you'd like a new video of nothing, please enjoy this video of twilight that night at Rodeo Beach.
Thanks to Sarah, whose birthday party in Palo Alto was the reason I needed a ride back to SF. Thanks too to the anonymous friend who drove me north.
Goodbye, DONT.TEL.
I bought a domain name called DONT.TEL in the 2009 .tel land rush period. I was going to use it to operate a mailinator-like anonymous email receiving service. It'd be called, "Don't tell," but with one "l."
Did you know that in the land rush period for a new top level domain (e.g. .TEL), you don't really know what domains you'll get? You have to commit to buying however many permutations you can afford, in the hopes you get at least one. If you're "lucky," you might end up with multiple domains! I happened to also win DONOT.TEL (a good fallback) and DON.TEL (hmm).
I never set up the anonymous email receiving service at DONT.TEL. There were two big reasons.
One problem was that the .TEL top-level domain name didn't permit domain owners to configure what website appears at that domain. Somehow, I had missed this critical information before buying DONT.TEL. Specifically, .TEL didn't permit domain owners to configure nameservers. Instead, .TEL domains had to all use the same content management system, written by the .TEL people, focused on publishing contact information. If I had set up an email service at DONT.TEL, I would have had to manually edit the site every time a new inbound email showed up.
The other problem was that I never quite got around to it.
For five years, I held onto this domain in hope and boundless optimism. I guess after a while, the hope faded, because on March 22, 2014, I allowed DONT.TEL to pass into the afterlife. All I have left is this story.
Thanks to TELNIC for making this story possible. You can find them at do.tel.
What am I forgetting?
I'm lucky to know Waseem Daher. Waseem founded a bunch of neat stuff over the years. He co-founded Ksplice, Zulip, and Pilot. These are all useful startups which make cool technology.
He also founded a website called, "What am I forgetting?" It's a list of things you might be forgetting while traveling. Two items from the list are, "A book for the plane (but I always overestimate how much I will actually read)," and "Weather-appropriate clothing (jacket?)."
Last September, it was Waseem Daher's birthday. I made him a video to say happy birthday. It's mostly mostly me scrolling through that joyous web page. You can find it here. Watch my laptop screen just before it pans away: there's an easter egg!
Hat tip to Siggi Hindrichs, who asked Waseem's friends to submit happy birthday videos. Also thanks to Quinault Childs, who was holding the video camera!
I do what I want!
My choir recently had a concert focused on Finnish music. At home, I found an analog clock that looks like the 2007-famous cairo-clock. I went to Mumbai for the first time; here's a video from a rooftop. I used the sautee mode of an Instant Pot to cook aloo gobi. In Cambridge, I ate an Impossible Burger meatball sandwich. In Chicago, I saw some snow. In San Francisco, some friends and I climbed some steps.